In 2014, Bastian Müller and Leonard Meisels founded socialPALS GmbH – kicking off Europe's first platform for digital trade marketing! The founders then brainstormed ideas on how brands could spread the brand message in the digital world via their distributors, i.e., the retail network. Four years and countless development hours later, a portal went live that linked brands and retailers for the first time. The first customers from the sports industry were not long in coming, and the transformation into a scalable platform solution soon followed. Since then, these two visionaries have impressed over 150 brands and more than 8,000 retail partners from every conceivable sector.
socialPALS: From a film premiere to a retail marketing plattform
Bastian has been involved in live communications all his life. In 2014, for example, he organized the film premiere of the climbing movie "Cerro Torre" for Red Bull and was also responsible for marketing the follow-up cinema tour. For example, Leonard had also been successful in social media, working on Saturn and MGM film distribution projects.
Bastian told them about his project when they met up for a BBQ. Leonard told him about diverse Facebook giveaway promotions. That's how the idea came about to send posters as usual to climbing gyms and outdoor stores to promote the film tour and offer each promo partner their own Facebook app to give away movie tickets. The two attracted over 70 partners in Germany alone, who promoted the initiative and raffled off movie tickets for four weeks within a short period.
After this successful kick-off, the pair began to think about where else this innovative concept could take hold and went on to win over Salomon's sporting goods brand as a first mover for a test campaign. After two years of classic "agency work," the two finally decided to take it to the next level and develop software together with Mobile Jazz to minimize operative time and effort. In 2017, they started designing the MVP; in February 2018, the platform went live, and socialPALS was born!
The brand: strengthen online presence and activate local target groups
Marketers are notoriously beholden to optimizing advertising expenditures and making them measurable. However, with a decentralized sales structure, it is rarely possible to maintain advertising pressure from the (inter)national level to sales regions. The connection to the region and thus to the stationary retailers, where the purchase is supposed to occur, is missing.
As a result, prospective customers often buy from the more visible local competitor. In addition, it is no longer sufficient for sales to sell products to retailers – they must also be actively supported in selling them to end customers. This means that close cooperation between marketing and sales is becoming increasingly vital. But how can brands operating nationwide reach local target groups while retaining control over the efficient use of advertising subsidies?
This is one of the challenges Bastian and Leonard overcame with their platform: brands use the digital channels available to their retail network as a mouthpiece and provide the latter with turnkey campaigns from the start! Therefore, the advertising message is not sent by the brand itself but by the respective retail partner, which results in a more authentic approach to the local target group. socialPALS offers an excellent solution for this – which both assumes the function of the "B2B Cloud" and plays out national campaigns locally in a fully automated manner. It excels with central control of the advertising budget on an MDF basis, live tracking, and meaningful reporting on a clear dashboard.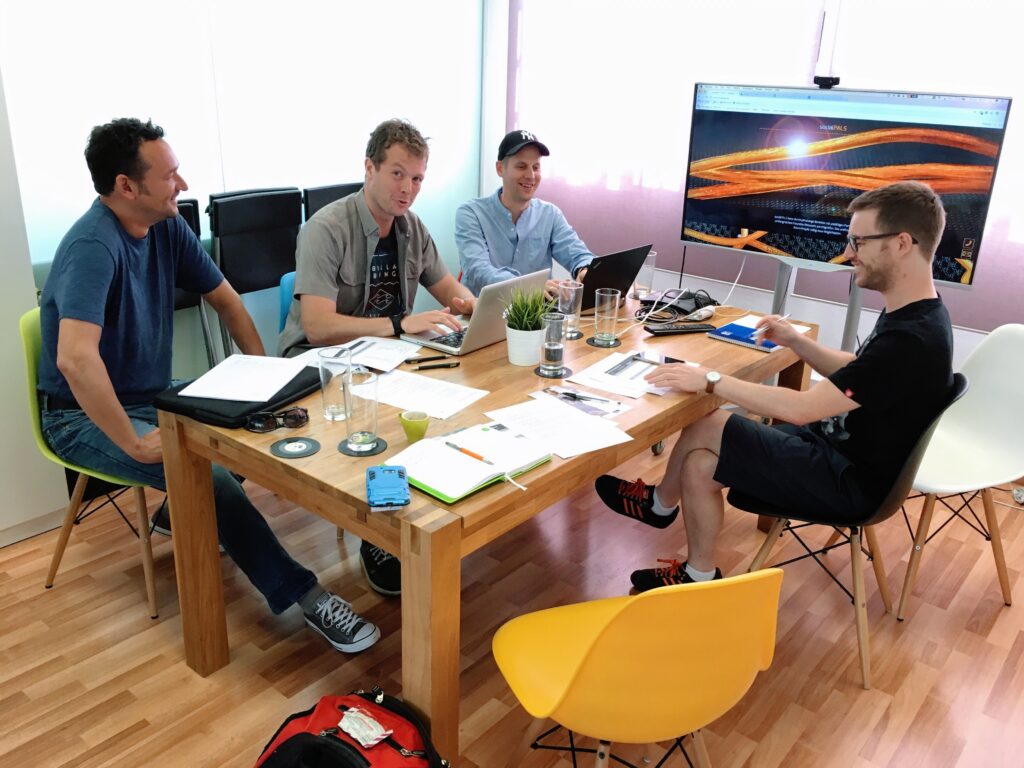 Retail: Increase digital visibility and boost sales figures
Those who advise customers at the PoS rarely have time for regular social media postings – let alone dealing with the now highly complex ad managers of the advertising networks. So how can brick-and-mortar retailers implement effective digital advertising measures? Often, the importance of online marketing has been identified, but there is a lack of know-how and both personnel and financial resources.
socialPALS as a central tool for retailers simplify complex processes here. After a one-time registration on the platform, the entire content calendar of a brand campaign is confirmed with one click. This is then automatically played out via the channels of the respective retail partner and reaches the customers in the vicinity on the digital channels, thanks to the stored advertising allowance. If necessary, the content of posts can be adjusted or moved at any time – the editorial sovereignty remains with the retailer.
Retail's not dead: The future lies in digital marketing
When Bastian and Leonard look at the platform's figures and the impact of the campaigns today, they believe all the more that brick-and-mortar retail not only has a future, but will remain the engine of the economy through successful digital support:
We founded socialPALS because for us the statement "retail is dead" is completely wrong. It will always have an important place in society – it just has to adapt its way of working and, above all, its marketing to the digital age. This is where we want to provide support with our expertise, and we see every day that it works. Some of our retail partners report up to 30 percent more sales thanks to our campaigns! (Leonard Meisels)
After all, all measures ultimately pay off in terms of the common goal of brand and retailer, namely to successfully sell the ordered products to the right customers at the right time:
Nowadays, every brand has to consider how to invest its marketing budget as efficiently as possible in order to support its retail partners with sales-promoting campaigns. The current workflow of allocating X amount to each retailer and then claiming receipts for print ads and the like is not very practical. With our platform, advertising subsidies can be earmarked and made available to retail partners in a 100% transparent manner and invested directly in digital, local advertising measures. The best thing about it is that it is not the proverbial advertising pillar that is the sender of the advertising message, but the retailer with whom the customer is most familiar! (Bastian Müller)
Act now and use your MDF more effectively!
socialPALS brings brands and retail partners together and creates a win-win situation that unfolds previously untapped potential. The innovative software solution simplifies complex processes through automated retail marketing and strengthens in-store retailers via regional brand campaigns.
With so much positive feedback and a team that the two founders are very proud of, it's no wonder that the startup from Holzkirchen near Munich is exceeding ambitious goals and is already successful in over 10 countries. Become part of the success story and get your free, non-binding socialPALS demo!
Simply fill out the form and request a demo: