Europe's leading software solution for local trade marketing
socialPALS connects brands and associations with their retail partners to digitally promote their offerings.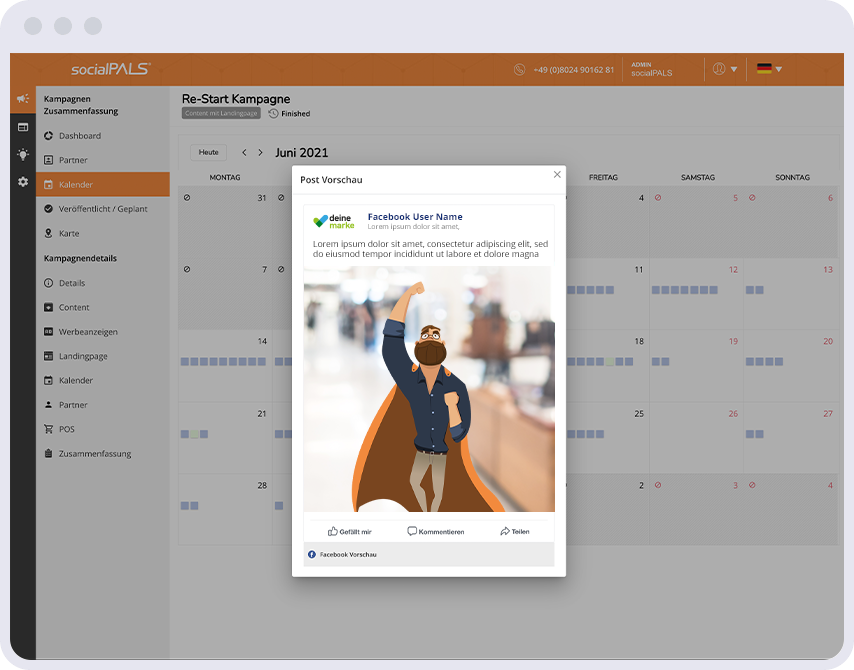 Here's what our users say:
Would you like to know what our users think about socialPALS or do you already have first-hand experience with our platform? Either way, we look forward to your visit and your review at OMR Reviews!
News on digital trade marketing
Our Blog showcases a range of customer case studies, an excellent way for you to gain insight into the features and options that our Plattform-Solution for Brands and Retailers offers.
From a marketing strategist's point of view, the connection between online and offline is more important today than ever before. Outdoor specialist MAMMUT therefore specifically relies on turnkey, digital brand campaigns for its retail partners. With a manageable budget, many customers could be reached and an above-average interaction rate achieved thanks to socialPALS!
… do you want to implement national campaigns, reach local target groups and provide your retailer network with professional marketing content in a cloud-based solution?​
The socialPALS platform gives you full control over your brand's corporate identity and all advertising allowances – always!
Here's what our brands say:
"The feedback from our retail partners is almost always very positive. Of course, there will always be individual distributors who want to pursue a different strategy for themselves. That is also completely acceptable for us ..."
Read more
Daniel Ziener
Shopper Marketing Executive Etail at Amer Sports Germany
"We wanted to expand our reach, strengthen in-store retail and avoid wastage. Besides socialPALS, I couldn't name any other agency that could offer me that."
Read more
Neele Pfeiffer
International Marketing Manager / Ravensburger Verlags GmbH
"After the successful collaboration last year, we are happy to once again cooperate with socialPALS. Because a lot of our retailers already have a socialPALS account, the activation is familiar to many of them. Thus, we can ..."
Read more
Sarah Jung
Team Lead Business Development / Boxine GmbH
"Through socialPALS, our distributors' awareness of online marketing and Facebook and the like has changed. For example, some of our retailers have created a Facebook company page for the first time .... ."
Read more
Lisa Gasse
Online Marketing Manager / GEFAKO GmbH & Co. KG
" Target-oriented platform enabling brand campaigns to be played out across the board and actively supporting retailers in their sales activities. Focused customer approaches across the entire dealership network with optimal measurement of the advertising budget's success."
Annegret Mayer
Trade Marketing Manager / Schöffel Sportbekleidung GmbH
"Through socialPALS, we are able to provide centralized support to our retailers in a targeted manner. And therefore set up an individual online marketing tool using straightforward means. Also, we are able to create very easily with an ad budget ..."
Read more
Albrecht Volz
Country Manager | Hanwag Germany Sales GmbH
"The retailers were thrilled with the ease of processing and are happy that we as a brand offer multi-channel support. This would not be possible in this form without socialPALS."
Read more
Annette Göbel
Head of Sales Promotion / JURA Elektro Appliances Distribution GmbH
"Due to the consistently positive retailer feedback and the simple use, we would like to continue to use socialPALS campaigns in the future to support the local retailers."
Read more
Lea Kreuter
Marketing Coordinator / Triumph Motorcycles Germany
" The collaboration with socialPALS, on the other hand, suddenly offered us not only a different approach to member outreach & engagement, but also a whole new field of activity: digital and, at the same time, local online marketing ..."
Read more
Lars Wandke
Head of Public Relations and Marketing | ZVA
… have you recognized the importance of online marketing but lacked the know-how or time to take the initiative?
No worries! With the socialPALS platform, you can implement professional online marketing with just a few clicks – and completely free of charge!
Here's what our retailers have to say:
"This is the first time we have participated in a campaign via the socialPALS platform. Through Salomon, we received an advertising budget for Facebook, Instagram and Google Display for the distribution of the posts. The tool was extremely intuitive from the first moment ..."
Read more
Alpenpark Neuss
Katharina Lehmann - Online Marketing Manager
"I find it convenient that you plan the campaigns precisely or only have to move the dates in the calendar, and then everything is automatic, and you don't have to worry about anything during the campaign duration. Support for any questions is excellent."
Riml Sports
Rebecca Riml / Administration
"We already knew about the socialPALS platform from the Tonies Lauscher campaign. Now, in this current difficult phase, when the invitation came from the Tonies to participate in the solidarity support campaign, we knew right away what to do."
Read more
Spielwaren Faßbinder
Stefanie Müller
"In no time at all, the visual engaging posts are scheduled for our retail branches. The fact that I can adjust the posting texts at any given time means that a personal touch isn't lost."
Read more
Unterwegs AG
Alica Eckhoff / Online Marketing & Shop Manager
"We enjoy using socialPALS immensely and use it frequently - it simplifies our content management process to a huge extent. The tool is very well thought out and operation is intuitive."
Read more
INTERSPORT Krumholz
Philipp Ockenfeld / Marketing
"The new model campaign was a true help to us! Unlike standard social media posts, which we have to download ourselves from the Content Hub and create texts for them, here everything was already preset."
Read more
Italmoto
Jaqueline Sassnick / Managing Director
"Today we can say that socialPALS is the optimal partner and booster for our social media presence. The optician can devote himself to his actual business and is through socialPALS perfectly represented on multimedia channels. This makes social media fun!"
Read more
Ameloh Optik
Armin Ameloh / Optician & owner
"The time required is minimal and easy to use. Once you have the first settings & links behind you, it's virtually just "one click" every time. Should something not work out, socialPALS is easy to reach with its competent contact persons."
Read more
Getränke Zwirner
Jennifer Di Filpo
Our team boasts a great working atmosphere and continues to expand—that' why we are always happy to welcome new, motivated colleagues. No matter if it's on-site in our HQ near Holzkirchen or our home office – we pull together! Found your dream job here? Then apply now!
Our customers now include over 100 brands and organizations from sectors such as sports, toys, mobility, household appliances, fashion, watches, bicycles, home, gastronomy, craft, garden, health and beauty. Here is an excerpt of the brands that trust in socialPALS: